Brian Mason Respite Camp 2022
The Brian Mason Respite Camp is an annual event for people whose lives have been severely affected by Multiple Sclerosis, the newly diagnosed and the caregiver/immediate family member living in the home who does not get the opportunity to vacation. It is a chance to meet others living with MS and/or give family members a break.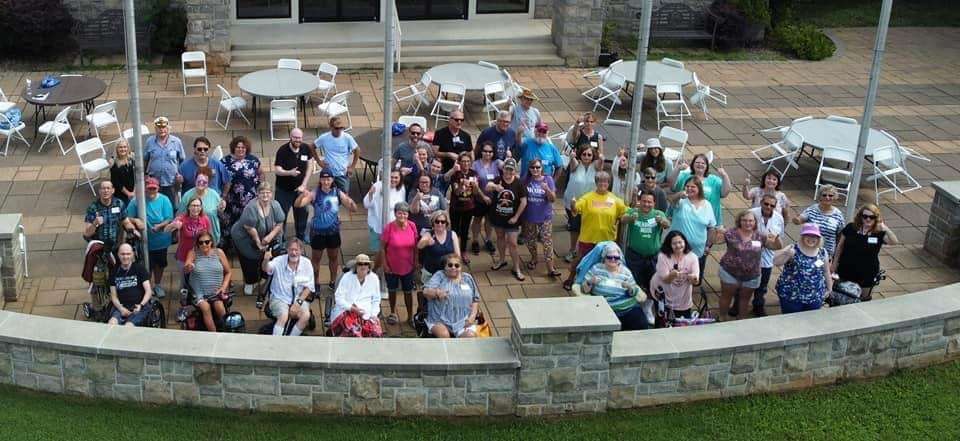 There are not enough words to express how  much the Brian Mason MS Retreat meant to my family.  Being able to surround myself with people who understand MS was beyond wonderful.  There were pontoon boat rides, canoeing, kayaking, and swimming for my family.  My girls absolutely loved playing games with the people with MS such as badminton.  (This involved an in-door net, everyone in chairs, rackets, and balloons).  My husband was able to spend time with other caregivers and attend sessions just for caregivers of MS patients.  He and I attended a session for couples led by my neurologist. I was able to lead a writing workshop. I made so many friends with MS this weekend and got to visit with friends I have made since my diagnosis in 2020.   MS is so hard, because many of our symptoms are invisible and there is no cure.  Being around people who get it was priceless.  Thank you Multiple Sclerosis Alliance of Virginia, Brian Mason, and all those who contributed time and money to make this happen.
"There are so many opportunities at the Brian Mason Respite Camp that no one HAS to sit in their room writing the 'Hello Mudda Hello Fadda here I am at Camp…' you get it! Instead, there are action packed games set up for those of us that our handicapable, I haven't played "volleyball" in many years but there I sat with badminton racquet in hand SMACKING those balloons over that net! And picture if you dare, grown women and men placing an Oreo on their foreheads and working it down to your mouth…IT CAN be done as I found out…just not by ME!"…..Teri Burks
Suzanne and her team are wonderful people and went out of their way to ensure everyone was fed, had what they needed and most of all had fun!
I love this group of people.
They are so amazing and made even a newcomer to camp feel very welcome.
I was sad when it was time to leave!!
The fellowship & love that we share with our MSAV family is evident from the hugs and love you feel beginning at the time of check in and lasts all the weekend through. The meals were delicious…the ride on the pontoon boat with Captain Curtis at the wheel was refreshing. The band rocked us with lots of great music and the pool was cool and soothing on the joints & muscles! The s'mores at the campfire were tasty and the company was great! The seminars with Doctors Cramer & Kidd were very helpful and informative! I especially liked the hour with Dr. Cramer for couples. I found out that Jeff & I are "normal"…wow who would've thought that! LOL Special thanks go out to David, Jeff, Rob, Hugh and any others who chauffeured us to our destinations. Thank you for what you do, giving up most of YOUR RESPITE weekend to help all of us enjoy ours! Tony for the Drone coverage and pictures of our family! The ladies who served and made our meals we thank you! Finally, Brian Mason & his staff for making this camp possible. His crew helped many of us unload our cars and get set up in our rooms…Suzanne for again, making this camp possible! Her dedication to our family is not to be forgotten. Jeff & I know after hosting an annual event ourselves, that there are a multitude of phone calls, miles driven securing people & items needed for this weekend! I can guarantee you that she has missed many hours with Doug and her kids and grandkids because putting something on of this magnitude takes conviction! You eat sleep and breathe camp! THANK YOU for that Brian and Suzanne first and foremost. Thank you's go out to  helpers Kristi, Toni, Joni (our camp RN), Cat, Judy, Steph, Chris, Alan and all the others (I can't possibly get ALL the names down here) who scurried around making sure we had watermelon and drinks and snacks etc…as well! It was definitely a weekend to remember! As we packed up and drove away there were waves and blown kisses, hands turned into hearts and smiles from all who were present when we pulled out. THANK YOU one and all for a wonderful weekend. Already looking forward to Camp 2023!!!