March is Multiple Sclerosis Awareness Month.
This is a great time for the Multiple Sclerosis (MS) community to get together and share exactly what  this disease is and how it affects them in their day to day lives.  Let's begin with what is MS? Multiple Sclerosis is a long-term, chronic, unpredictable disease of the central nervous system consisting of the brain, spinal cord and optic nerves and thought to be an autoimmune disease. MS can cause symptoms like blurred vision, loss of balance, poor coordination, tremors, bladder dysfunction, slurred speech, problems with memory/concentration, blindness, paralysis and more. These problems may be permanent or they may come and go. It is often an invisible illness and affects approximately 2.5 million people worldwide.
An invisible illness is one that does not show clear external signs of sickness. Those with invisible illnesses may have deeply impactful conditions such as those listed above, but show no clear signs to an outside observer. Can you imagine suffering chronic, debilitating problems on a daily basis and on top of that, having to deal with people not believing you have anything wrong with you? Because outside observers cannot see the very real symptoms of MS, they may be less understanding or empathetic.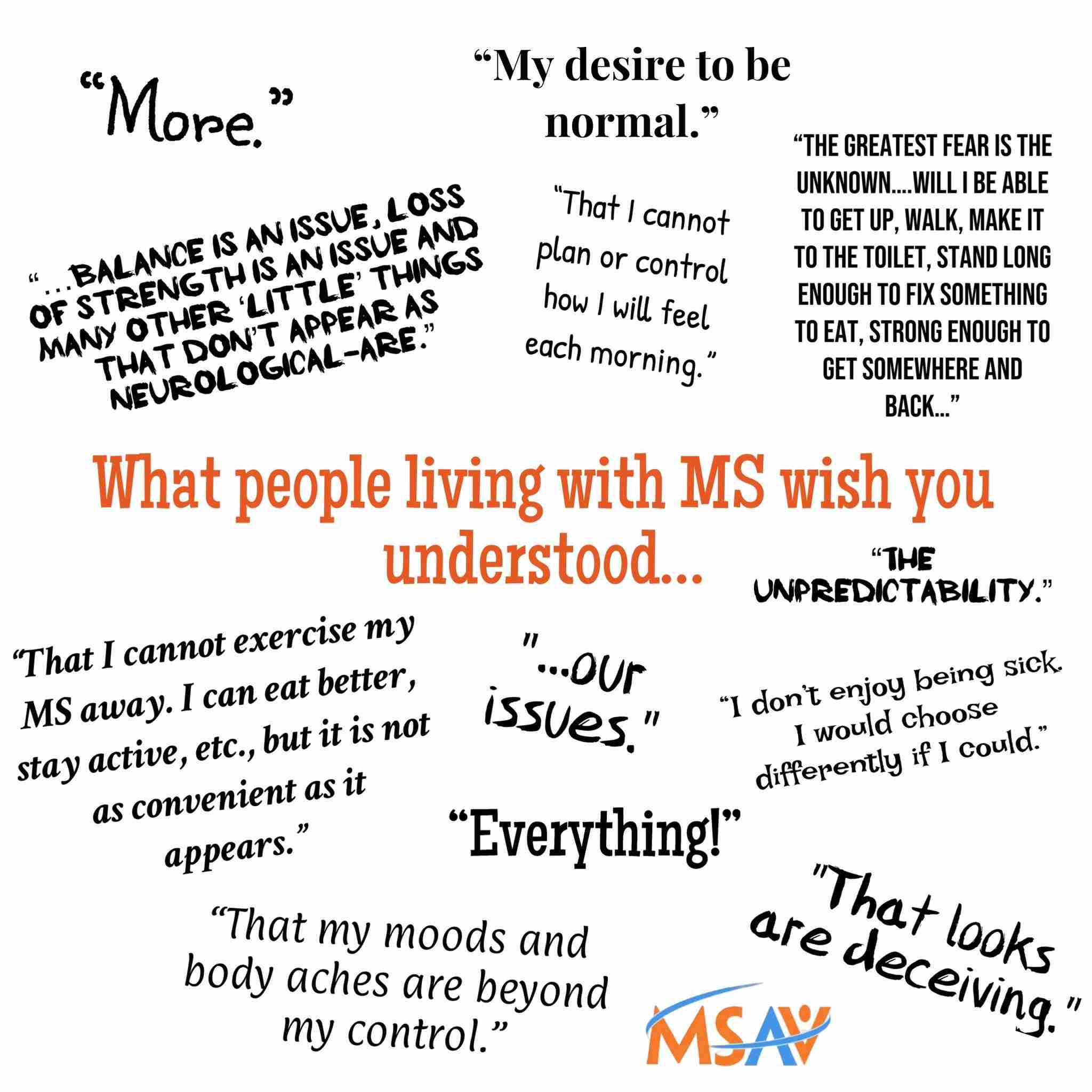 In addition to the many challenges that come with MS, people living with this invisible illness can also experience frustration, guilt, exhaustion, financial strain and embarrassment. It can severely impact dependability at work and may lead to social isolation and depression. Imagine having to wake up each morning wondering if your arms and legs are going to work, if your vision will be blurry or if the pain will be bearable, etc. and then going out into the world to hear things like this:
You don't look sick.

You were perfectly fine yesterday.

How come you can go to the grocery store, but when I want to go somewhere, you are too tired?

If you just exercise, you'll feel better.

Did you know you can cure your disease if you stop eating sugar?

Why don't you just take some pills and feel better?

I just told you that 5 minutes ago, why can't you remember?

It's all in your head.

 It must be nice to get to sit at home all day.


….and the list goes on and on.

So, how can you support those you know living with MS? People with MS are not sitting around "waiting for God", they are trying to live their best life in spite of this disease. It's important to remember everyone wants to enjoy life and no one wants to be a burden. Try not to get frustrated with them, they didn't choose this life. People with MS often feel judged or embarrassed because of the deficits they feel MS has created and don't want to sound like they are whining and complaining. Educate yourself and ask questions because they want you to know. Accept that you are powerless to make them better, but your love and understanding mean so very much. Most importantly, remember that above all else, the person you know or love with MS is still just a regular human being who has regular human feelings and kindness costs you nothing.
Are You Missing Out?
Make sure you know about all of our fun events and activities. Click here and update your contact information to make sure you are getting our emails.
Because people with multiple sclerosis (MS) usually undergo regular MRI scans to image their brains, their data could help researchers learn more the long-term effects of COVID-19 on brain tissue That's the argument by a team of researchers in the paper, "Multiple...
read more
Provide programs, events, activities and services for people living with MS in Southwest Virginia and the surrounding areas, including veterans.
Educate and empower people with MS, their care partners, friends and family. We will guide people to organizations that may be able to assist with their needs.
Contribute to awareness in the community, including educational programs to young people, first responders and community organizations.
Encourage and expand support groups to include assisted-living facilities, homebound people and help others start upbeat groups like ours.