The Mission of the Multiple Sclerosis Alliance of Virginia
Provide programs, events, activities and services for people living with MS in Southwest Virginia and the surrounding areas, including Veterans.
Educate and empower people with MS, their care partners, friends and family.  We will guide people to organizations that can assist people with their needs.
Contribute to awareness in the community, including educational programs to young people, first responders and community organizations.
Encourage and expand support groups to include assisted living facilities, homebound people and help others start upbeat groups in their area.
Roanoke Valley MS Support Group Meeting
Thursday, October 28
Time: 
6:30 p.m.
Topic: Pelvic Floor Therapy 
Chris Schroeder, retired physical therapist, will be discussing Pelvic Floor Therapy. One of the many benefits of this therapy is that it can help improve bladder and bowel control. The pelvic floor muscles provide several crucial functions such as pelvic organ support, bladder and bowel control and sexual function.
Join Zoom Meeting: https://us02web.zoom.us/j/7127679497
Zoom Meeting Room ID#7127679497
Or call in using: 1-312-626-6799 or 1-929-205-6099
ALWAYS – Confirm upcoming Events and Meetings by
Visiting our Website www.msallianceofva.org or call 540-404-2243.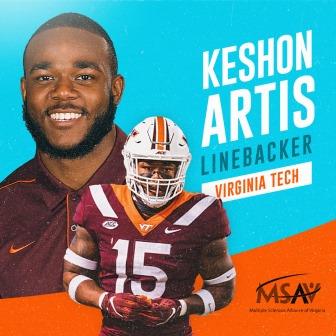 MS ALLIANCE OF VIRGINIA EXCITED TO ANNOUNCE
PARTNERSHIP WITH
VIRGINIA TECH LINEBACKER KESHON ARTIS
Keshon Artis is a two-time first team all-state linebacker and 2016 6A South Region Player of the Year. He finished his senior season with 103 tackles, 15.0 sacks, 39 tackles for loss, six forced fumbles and two pass break ups. He was Coached by Scott Johnson at Oscar Smith High School, where he was the 2017 Southeastern District Defensive Player of the Year.  Keshon represented the United States on the U19 National Team in the 2018 International Bowl IX.
With the Hokies, in 2020, Keshon played in seven games, posting two tackles on special teams.  He wore Coach Beamers No.25 jersey at the Louisville game.
Keshon Leander Artis, from Chesapeake, VA, is the son of Leander Artis III and Keisha Artis.  His mother, Keisha, and two of Keshon's aunts live with Multiple Sclerosis. As Ambassador of the Multiple Sclerosis Alliance of Virginia (MSAV) he plans to increase MS awareness and help raise necessary funds for programs and services in underserved Southwest Virginia and surrounding areas.  The MSAV is a 100% volunteer, 501c3 non-profit located in the Roanoke Area MS Center (RAMS) Salem.
Keshon's marketing representative, Terence Tarrer, reached out to the MSAV to facilitate this new partnership. Visit our website at www.msallianceofva.org to follow Keshon's journey and learn how you can participate, support and/or donate to local programs and services for people living with multiple sclerosis.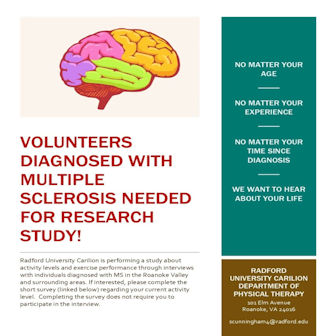 Radford University is conducting a study about activity levels and exercise performance through interviews with individuals diagnosed with MS in the Roanoke and surrounding areas.
If interested, please complete the short survey (linked below) regarding your current activity level. Completing the survey does
not require you to participate in the interview. Click this link: Radford PT Survey