Introducing Clifford Davis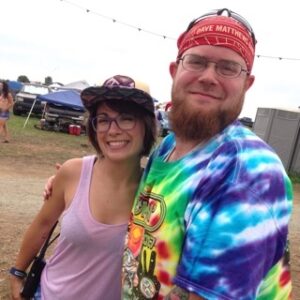 This month, our spotlight is on Clifford Davis.  He was diagnosed with Multiple Sclerosis in 2013 after he began having double vision.  Soon to follow would be challenges with his ability to speak, memory problems, and loss of balance.  Although Clifford has been living with MS for 8 years, he does not let his illness define him.
Clifford lives in Salem, VA with his two dogs Shiloh and Boo Boo. Shiloh is a beagle that has been with him since 2008 and he calls her his "constant defender" for the way she is always by his side and ready to defend him.  Boo Boo is a chiweenie that came into his life in 2014.  He calls them both "his Queens".   In his free time, Clifford relaxes by watching TV.  WDBJ 7 News, American Pickers and Pawn Stars are some of his favorite TV shows.  He also likes the gameshows Jeopardy, Wheel of Fortune and Family Feud. Another thing he enjoys is spending time with his caretakers.  He has had several over the years.  He says, "I hate to lose a caretaker, but appreciate getting to meet someone new.  I like getting to know a new person, to share my passions with them and getting to learn about them as well."
Speaking of 'passions', Clifford is a tremendous fan of the music group Widespread Panic.  He discovered the band through a friend in 2008.  To date, he has seen them in concert 37 times.   Clifford began collecting posters from concerts he attends in 2010 and has quite an impressive collection of about 60, with around 15 being from Widespread Panic.
When I asked Clifford what one thing can instantly make his day better, he said, "marijuana".  He is a staunch supporter of legalization and claims that marijuana has had a positive impact on his life for almost 20 years and he attributes his marijuana use to the fact that he has no pain with his MS and as a bonus, it makes him happy.
Regarding how the Multiple Sclerosis Alliance of Virginia has benefitted Clifford, he says, "What I like best about the MSAV is the feeling of 'community' that it gives me.  It is nice to know that I am not alone in fighting this disease.  We are all unique, but we all have something in common." He also likes to use a quote from his favorite Widespread Panic song, Good People, when describing The MS Alliance which is, "We are the good people your friends told you all about."