Lew Moore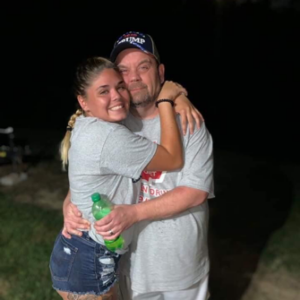 Meet Lew Moore. Lew was diagnosed with Multiple Sclerosis in January of 2003. His first MS symptom occurred in his eyes. His right eye was weak, and the left eye kept trying to compensate which would cause his eyes to shake. During the month it took to get his diagnosis, Lew got to experience a spinal tap, an MRI, and numerous blood tests.
Of the challenges that Lew is proud of overcoming, one was, "accepting the diagnosis and moving on with his life." One of his passions is baseball and over the past 19 years, he has coached T-Ball, Little League and Junior/Senior Leagues. He has been able to coach all of his children as they were growing up and plans on coaching again next year when his grandson will be old enough to play. He says, "When you make a difference in a kid's life, it's all worth it and I wouldn't trade that for anything."
Lew recalls going to the Roanoke Valley MS Support group back when there were only 6 or 7 participants, and he remembers when the MSAV was formed. Lew states, "The MSAV stands for what I had always hoped for. Nineteen years ago, when I was diagnosed, I thought it was a death sentence. There was nothing in Roanoke to teach or educate about MS. There was no Google and barely anything in the library other than '….bed ridden, take it easy, blah, blah, blah…'. My neurologist told me I would be in a wheelchair within 4 years." Eventually his neurologist moved, and he began seeing Dr. Gordon Burch, who introduced Lew to the Roanoke Valley MS Support Group. Lew shares, "Suzanne is my hero. It is important to be around others who 'get it' and to see all the people with MS positively living their lives."
When asked what advice he would share with other men who are affected with MS, Lew answered, "Nobody has ever died directly from MS. Once you push through the depression, there is so much to live for. Knowledge is empowering – depression comes from the unknown. Once you educate yourself about this disease, you can start living your life."
One thing that can instantly make Lew's day better is baseball. "I love baseball,' Lew says, "Last year I got to see my first Major League game. It was so awesome! We were on vacation, one of those where you just get in the car, pick a direction, and start driving. We ended up in St. Louis and everyone wanted to see the arch. While we were there, I looked around and saw people all over the place with Atlanta Braves jerseys on. I asked and someone told me the Braves were playing the Cardinals, so I got tickets. It was the chance of a lifetime."
Strike Out MS was created by Lew and his family to raise awareness in the community about MS, to let others know they were not alone and to raise money for the MSAV. Lew says, "Strike out started with the things that were taken away from me by MS. My motorcycle, my guitar and playing pool. So, I took what was taken from me and put together an event to raise money." The first one had a concert, motorcycle ride, pool tournament and vendors. In the years following, there have been more pool tournaments and bowling tournaments as well. Lew and his family hope to be doing large events again in the future and need volunteers. If anyone wants to help, you can send an email to msav4hope@gmail.com and put Strike Out in the subject line.
Chris Meadows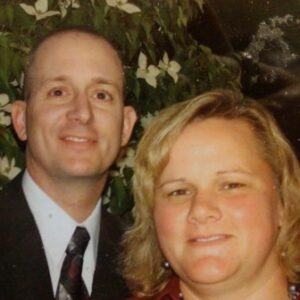 MSAV:  Tell us about yourself, your MS diagnosis/journey and how long you have been living with MS.
CHRIS:  My name is Chris Meadows. I am a Mechanical Engineer graduate from Virginia Tech with an MBA from ODU. I worked in a pulp and paper mill, Phillip-Morris, and a heat exchanger manufacturer, Deschamps. I was diagnosed with MS on 11/27/2009. A day that will live in infamy.
MSAV:  How did you discover the MSAV?
CHRIS:  I don't remember for certain, but I'm fairly sure Suzanne O'Connell had something to do with it. I'm very glad to have found this group. See this disease cost me my career, three jobs, my first marriage and for a while, my kids. My education is reduced to two sheets of paper on the wall. This group somehow found its way in my life right then. I started making better decisions. Stopped saying woe is me. My focus started to shift to helping others.
MSAV:  What do you do to take care of your mental health?
CHRIS:  Nutrition and exercise. I use kinesiology to ease the aches and pains, improve GI function, etc.
MSAV:  Tell us some tips or life hacks you have discovered that help you with your 
MS.
CHRIS:  I have fall proofed my house: no rugs, a ramp to the door, grab bars in the shower.
I also use technology to help me.
-Calendar events for appointments with alarms
-Notes for everything
-I make a sheet to take to the doctor or all doctor visits (it's on my phone)
List of all medicines
Top 3 questions
Try to keep a list of treatments/timeline
MSAV:  What advice would you share with other men who are affected by MS?
CHRIS:  Life is not over, just different.
MSAV:  How has your perspective on the world changed since you were diagnosed?
CHRIS:  I like the person I am now, but I sure miss the health.
MSAV:  What is your favorite way to spend a day off?
CHRIS:  Coffee
Brenda Strough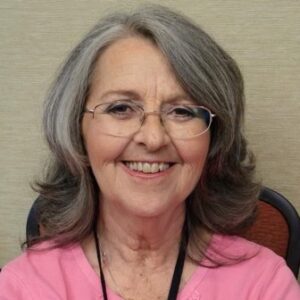 This month we are getting to know Brenda Strough.  Brenda became involved with the MS Alliance of Virginia through her acquaintance with Suzanne O'Connell, "….I have so much respect for her (Suzanne).  This organization helps me, and I am so proud to be involved.  I was there when the MS Alliance started and even before then.  I am one of the Ambassadors of our group and love to stay in touch with everyone."
Brenda was verified with having Multiple Sclerosis at the age of 30, but her encounters with autoimmune illnesses began many years before.  "When I was 3, my mother came into my room to dress me for church.  I was not breathing, and I was turning blue. At the hospital, I was diagnosed with Rheumatic Fever and a heart murmur.  At age 16, I had Mononucleosis, another auto-immune system illness."  For many years after that she kept having MS symptoms such as unexplained balance issues, fainting, excessive nausea, and problems swallowing.  Finally, in 1980, UVA Medical Center confirmed that Brenda had Multiple Sclerosis (pre-MRI era) with 9 out of 10 MS symptoms.  She was happy to now have an actual diagnosis and remarked, "My doctor said it was not curable, but I was relieved it was not cancer.".
I asked Brenda if having MS had changed her perspective on life.  She said, "Back in the 70's and 80's, most doctors put patients on bedrest for MS."  Her neurologist, Dr. James Bennett, was ahead of his time and felt differently.  He opted to include regular walking and swimming as a part of her treatment.  She goes on to explain, "I don't feel like a VICTIM at all, and actually, MS has made me stronger."
I wanted to know what gives Brenda strength on the days when her MS is being a monster.  She told me, "I am definitely not as strong as I seem.  There are bad days, but by talking with others, I realize I am so blessed and do not try to focus on myself.   I also pray.   A pastor once said that as we are praying to God for help, God is praying for us."
About being newly diagnosed, Brenda says, "When you are first diagnosed, please don't think you are going to die.  I have had MS for over 60 years, so this CRAZY illness will not make me kick the bucket.  Have courage and try to research and understand your disease, not only for yourself, but for others in your family.  Also, do Physical Therapy at least 2 times a week and have counseling, because you need a professional to help you understand what you are going through."
When I invited Brenda to share something that would instantly make her day better, she explained, "I would love to think that I have helped people over the years to smile (a lot) and to love God more."   I also inquired as to what she would do if she found out today was her last day on earth and she responded, "I would hold tight my friends and my wonderful son, Jonathan."
In closing, I asked Brenda what her favorite piece of advice on life would be. She told me, "Being 71 now, I know the best advice is to stay positive, love God with all your heart, and love especially those with greater challenges."
Judy Johnson

MSAV:  Tell us about your MS diagnosis/journey and how long you have been living with MS.

JUDY:  I was diagnosed in 2013, but I believe I had it for several years before then.  My problems with vertigo and falling so much is what drove the search for answers.  Foot drop has not been my friend, but I feel lucky to have lots of family and friends who are there to support me.

MSAV:  What accomplishment are you most proud of and why?

JUDY:  My two beautiful daughters!

MSAV: What quote resonates with you more than any other?

JUDY:  "You got to risk it to get the biscuit".

MSAV:  What are your hobbies, and how did you get into them?

JUDY:  I like to volunteer when I can, not sure that counts as a hobby 🙂

MSAV:  What is your absolute favorite way to spend a weekend?

JUDY:  I enjoy spending time with my family or my MS family.

MSAV:  What do you like most about the MS Alliance of VA?

JUDY:  They are always there to help people with MS in our local area.  They have had many educational programs, great speakers geared towards issues that people with MS would find beneficial.  They work hard to give us events where everyone can come together, have fun, and understand the challenges we all face.
Teri and Jeff Burks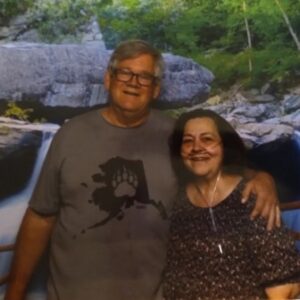 MSAV:  Tell us about yourselves and how you two met.
TERI AND JEFF:  We met online somewhere around 1997 or 98 as best we can remember. We both were in the "chat rooms" at that time. We went to a specific 40's Love Room … not looking for love, but just conversation with faceless people from all over the world. He met me as Tj and I met him as George 'O Jungle. I loved his quick wit, and he found my "humor" attractive. We started to talk more and more frequently and before long, he asked how I would feel about him coming in and meeting me. I gave it some thought and eventually agreed he could come to my house in Northern Illinois. Jeff was born and raised in Big Island, VA and me, in Madison, WI. I was your fairly straight laced…occasionally liked to party…midwestern country singing gal at the karaoke bar scenes. I had 3 kids plus foreign exchange students and had worked for the local Rescue Squad for many years. I taught Sunday School and was Co-President of our schools PTA. Jeff was working with the Roanoke Times by then after having worked down in New Orleans for years out in the gulf on Oil Rigs. He would come in after 2 weeks on and pack up and travel following the Grateful Dead all over the Country! His music was FAR from my style. Talk about opposites attract LOL
MSAV:  What is the biggest strength of your relationship?
TERI AND JEFF:  We've been tested many times throughout our marriage. When we married, we vowed in good times and in bad…in sickness and in health and we knew from our previous marriages (both of us married once prior) we would always have to take everything ONE DAY AT A TIME….until life dealt us blow after blow beginning just 2 short years into our journey together. We then learned to take it hour by hour and some days…minute by minute.
MSAV:  What do you do together for fun?
TERI AND JEFF:  NOW…we love pretty much the same TV shows. Cop shows are where our interest lies. We got hooked on 24 years ago…watching back-to-back episodes with as many as 6 or 7 hours worth of shows at a time. Before M.S. and all medical roadblocks, we loved to travel and go camping in our 71 VW Volkswagen Bus. We eventually started our own Natural bus Camping annual event raising money for The Roanoke Ronald McDonald House. We spent a lot of time in that bus. I miss those days.
MSAV:  What is the best vacation you have taken together and why was it the best?
TERI AND JEFF:  This is hard to answer for sure. EVERY trip we have taken together has been the BEST! Two stand out though for me…the first trip we took to New Orleans to see The NOLA  SAINTS play at The Superdome and the other would be the time we headed out west together. Stopping first at The Field of Dreams in Dyersville, IA, just to throw the ball around a few bases, my sister-in-law was an extra in that movie filmed close to our home. Through Mitchell, SD we stopped at The Corn Palace and then on to Wall Drug to get our nickel cup of water. The Badlands and the "Heads" as Jeff refers to the famous Mt. Rushmore in Keystone, SD were the next in line for us to experience together.  Stopped to see The Devil's Tower in WY after leaving Deadwood and Crazy Horse Monument & Sturgis. Spending time in Cody, WY, we attended a rodeo and the museums there were great even if it was the second time for me.  Visiting Old Faithful in Yellowstone National Park., and the Mudpots and seeing up close and personal the moose, bears, elk etc… was awesome! Crossing the Continental Divide while driving Bear Tooth Pass, we stopped on June 22nd to have a snowball fight! Then through the mountains of the East Rim leaving Yellowstone. On our way home we had to make a stop in Fargo, ND because Jeff loved the movie Fargo…Nothing else in Fargo! However, not too far from there is the MALL of AMERICA which was a MUST for me having taken my girls there many years before for Graduation Shopping Trips! Like I said Kristi…every trip we take is amazing.
MSAV:  What is your number one piece of advice for a successful marriage?
TERI AND JEFF:  BE HONEST! DON'T go to bed angry…even if one of you has to "cave" and say okay for tonight I need my kiss and whatever comes naturally because NO ONE is guaranteed tomorrow, and WE KNOW THAT better than many.
MSAV:  How did you get involved with the MS Alliance?
TERI AND JEFF:  To THIS day, we do NOT remember how. If Suzanne or anyone else can help us out with this, we would greatly appreciate it!! LOL! I'm convinced God just led us to that first meeting in the back of a building down from the Tanglewood Holiday Inn. He introduced us to a new family that we would soon come to call our own! We are so blessed by all those we have met throughout my journey with Multiple Sclerosis. (p.s. we MAY have talked to someone at one of the yearly M.S. Walks we did since 2003 and on…we just do NOT recall) BRAINFART…I think I DO remember how we got started. There was a news brief on the event going on at the hotel for a M.S. weekend gathering. We saw it Sunday morning and came over that very morning…THAT is how we started with our M.S. family. The Alliance was formed long after we came on board. I believe it was post cancer and all the surgeries for that. Maybe somewhere around 2013 or 2014…?
Clifford Davis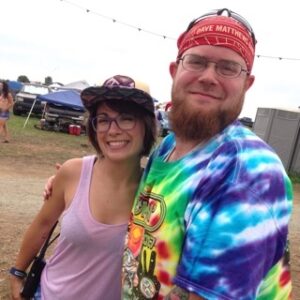 This month, our spotlight is on Clifford Davis.  He was diagnosed with Multiple Sclerosis in 2013 after he began having double vision.  Soon to follow would be challenges with his ability to speak, memory problems, and loss of balance.  Although Clifford has been living with MS for 8 years, he does not let his illness define him.
Clifford lives in Salem, VA with his two dogs Shiloh and Boo Boo. Shiloh is a beagle that has been with him since 2008 and he calls her his "constant defender" for the way she is always by his side and ready to defend him.  Boo Boo is a chiweenie that came into his life in 2014.  He calls them both "his Queens".   In his free time, Clifford relaxes by watching TV.  WDBJ 7 News, American Pickers and Pawn Stars are some of his favorite TV shows.  He also likes the gameshows Jeopardy, Wheel of Fortune and Family Feud. Another thing he enjoys is spending time with his caretakers.  He has had several over the years.  He says, "I hate to lose a caretaker, but appreciate getting to meet someone new.  I like getting to know a new person, to share my passions with them and getting to learn about them as well."
Speaking of 'passions', Clifford is a tremendous fan of the music group Widespread Panic.  He discovered the band through a friend in 2008.  To date, he has seen them in concert 37 times.   Clifford began collecting posters from concerts he attends in 2010 and has quite an impressive collection of about 60, with around 15 being from Widespread Panic.
When I asked Clifford what one thing can instantly make his day better, he said, "marijuana".  He is a staunch supporter of legalization and claims that marijuana has had a positive impact on his life for almost 20 years and he attributes his marijuana use to the fact that he has no pain with his MS and as a bonus, it makes him happy.
Regarding how the Multiple Sclerosis Alliance of Virginia has benefitted Clifford, he says, "What I like best about the MSAV is the feeling of 'community' that it gives me.  It is nice to know that I am not alone in fighting this disease.  We are all unique, but we all have something in common." He also likes to use a quote from his favorite Widespread Panic song, Good People, when describing The MS Alliance which is, "We are the good people your friends told you all about."

Donna Gravely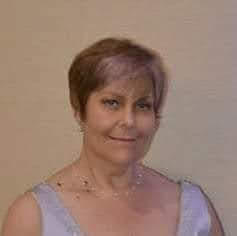 MSAV:  Tell us about your MS diagnosis/journey and how long you have been living with MS.
DONNA:  Looking back, my MS journey seems like a long one. It began way back in the early 1990's with what my MD suspected was the Guillain Barre syndrome. I had all the symptoms, including a low-grade fever that lasted for over a year. At that time there wasn't a test or treatment, so I read everything I could find about the syndrome and took every vitamin and mineral that was suggested. Finally, the fever returned to normal but the fatigue and tingling in my extremities remained. Over the next several years, the fatigue and tingling increased and new issues began. I was having odd pains everywhere – I described it as if I were a pinball machine. Also, my back became very stiff. X-rays revealed compression fractures and pinched nerves. I was given muscle relaxers, exercises to do and sent to a chiropractor. None of this helped – it even made the symptoms worse. On April 1, 2004, I woke up with a strange squeezing sensation around my torso (the MS Hug). Happy April Fool's Day! More x-rays revealed more fractures and pinched nerves. Again, I was given muscle relaxers, exercises and sent to a chiropractor. Again, nothing helped. In 2009, I began stumbling and falling. I started dropping things. Spasms in my legs and forearms became so severe that the muscles seemed to freeze and would not move. Some days I had trouble thinking straight. The fatigue worsened. My legs were weak. The most distressing problem was what we now know are seizures caused brain lesions. The seizures began as an odd cold knot in the pit of my stomach that quickly spiraled throughout my body followed by profuse sweating and zoning out. By now, it was 2010. My PCP sent me for more x-rays and to a neurosurgeon. The surgeon ordered physical therapy, and the PT team discovered clonus in my feet and foot drop. After the neurosurgeon received the reports from PT, he scheduled back surgery and ordered a lumbar MRI.  In the meantime, I started researching all the symptoms on my own. Soon everything I found had one common denominator: Multiple Sclerosis. Nope! I slammed the lid down on my laptop, put it on a shelf and stopped thinking of all the symptoms. That is until my PCP called me in for an appointment to discuss the MRI results. While I was waiting in the exam room, I noticed my medical file on a table. On top of the file was a letter from the neurosurgeon. He had cancelled the surgery and wanted me to be seen by a neurologist as soon as possible. The MRI revealed numerous lesions, and he was certain I had MS. I wasn't shocked. I didn't get upset. This was confirmation of what I already knew. Next began a year long journey of having every test possible associated with every symptom to both determine and rule out what condition I did or did not have. One neurologist was more concerned about the acute narrowing spinal cord and nerve impingement than the spinal cord lesions. In April 2012, I was given the official MS diagnosis and immediately started on the first DMT along with medications to help with the symptoms. Since then, there have been setbacks and recoveries and several DMT changes. In late 2017, I had a severe relapse that included worsening of the symptoms I already had, plus severe cognitive and memory issues. Bladder and bowel troubles began. This time, there was very little improvement, and my neurologist placed me on disability in June, 2018. The results from a new series of MRI's alarmed my medical team so badly that I was sent for different therapies, more tests and neurosurgery visits. I currently have a pending procedure. So that's basically my MS journey. Today, I continue with the DMT and medications, keep up to date with the latest MS news and do my best with activities of daily living and caring for my Mom. The one constant and uplifting factor throughout all of this has been that God has never left me. His Grace has provided me with care, resources and people who know and understand the challenges MSer's face. For that, I will be forever grateful!
MSAV:  How has the MSAV made a difference in your life?
DONNA:  The MSAV first impacted my life by providing a wealth of information and resources that offered advice on anything and everything to do with Multiple Sclerosis. I actually began attending MSAV meetings while I was still in the testing phase for the symptoms. My first meeting was just after Suzanne O'Connell had taken over leadership of the group. Talk about dropping some knowledge! There was so much of it, but I needed it and was so happy to have it. Soon, my Mom and my brother, Kyle, started going to the meetings. Doing this helped them both to understand what I was experiencing. Listening to the pharmaceutical aspect of MS as well as hearing how others with MS dealt with and overcame the same challenges I faced not only encouraged me, but it also helped my family. The MSAV mini-retreats and Brian Mason Respite camps have been a true blessing, and I've made friends that will last a lifetime. If it had not been for the MSAV's help, I could not have gone on the 2016 cruise to the Bahamas. I know that operating a non-profit organization can be laborious and difficult as well as rewarding, so a huge heartfelt thanks to everyone who works tirelessly to make this association such a success!
MSAV:  Tell us some of the challenges you are proud of overcoming.
DONNA:  Each and every MS symptom presents with its own challenge. For me, the key to overcoming these challenges was adaptation and resilience. The foot drop, numbness, weakness, fatigue, spinal cord lesions and pain causes mobility issues. I've adapted by wearing braces and using a cane and walker. Instead of going to grocery and department stores, I do almost all shopping online. The MS seizures I have are mostly triggered by sudden changes in light and prolonged changes in motion. Before I knew what the seizures were, I started experiencing them when leaving a movie theater. Moving from the dark theater into sunlight was enough cause one. Wearing a pair of very dark sunglasses when leaving a theater now keeps seizures at bay. Sometimes, something just cannot be overcome. Seizures have happened when playing a simple online game where colorful objects are continuously moving and bouncing. So that's an activity that I had to give up. The most challenging symptoms were the sudden onslaught of cognitive and memory issues. These really affected my well-being in a negative way. Resilience is the ability to bounce back, adjust and move forward. My neurologist sent me to see a psychiatrist for an evaluation. I put into action the recommended coping mechanisms and pushed through the darkness. No matter how badly something feels, there's always a brighter day ahead.
MSAV:  What are your hobbies and how did you get into them?
 DONNA:   I've always been creative and have loved to draw for as long as I can remember. From elementary school and throughout my work career, I've created many poster boards, murals, flyers and brochures and other displays; winning a few awards along the way. My current passion is paper crafting, which includes creating greeting cards. Those who receive the cards seem to like them – they say it makes them feel special. Nothing makes me happier than to think I've helped brighten someone's day!
MSAV:  What is your favorite way to spend a day off?
DONNA:  I had trouble picking out just one favorite way to spend a day off, so I've combined them. I would load my Mom, fur babies (Koko Bae and Buster MacGoo) into my Mazda and drive to the nearest beach while picking up family and friends along the way. We'd find a shady area to have a picnic. If there was time, we would all go see an exciting blockbuster adventure on the big screen. That's really silly, I know; but any one of my four favorite things would be enough. (1: Spending time with family, fur babies and friends. 2: Spending time outside being careful not to get overheated. 3: Simple trips. 4: Movies.)
MSAV:  What advice would you give to someone newly diagnosed with MS?
DONNA:   Don't isolate yourself. Find a support group either locally or online. Don't be surprised if someone you are close to cannot seem to understand what you are going through – stay strong. Learn as much as you can about MS and your own symptoms and try to stay up to date on the latest research and treatments. Keep a log of your symptoms. Tell your medical team everything including your physical and emotional symptoms and how the symptoms affect your daily life. While it's important to stay aware of how you feel, don't get obsessed over it. Most importantly remember you are never alone. Keep the faith!
MSAV:  What else would you like to share about yourself?
DONNA:  I live a small, quiet (but very busy) life and enjoy the simple things. I'm my Mom's caregiver. Taking care of her is an honor and a joy. Faith is the most important element in my life. Mother Teresa said, "Be the living expression of God's kindness; kindness in your face, kindness in your eyes, kindness in your smile." I try to live by those words every day.

Chris Nuckols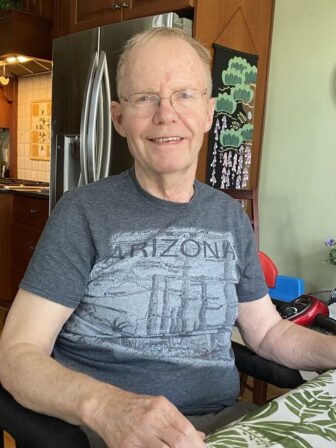 MS ALLIANCE:  Tell us about yourself, your MS diagnosis/journey and how long you have been living with MS.
CHRIS:  I am a 75 year old guy with a permanent Foley catheter and MS who is happily married to my second wife now for 18 years (I lost my first wife to cancer after 31 years).  I had my first episode in 1980, a month after a tumble on my head in a beach/surf accident.  I had temporary lapses of about 15 seconds with my speech, walking and hands/coordination.  I went through a spinal tap and other tests but there was no MS diagnosis for six years until I had optic neuritis in 1986 (after the MRI was invented).
Then, oddly enough, I was in remission for 21 years!  We thought the MS had disappeared.  I had retired in 2001, but continued to ski, golf, and play tennis like I normally would.  Then in 2007, I stumbled while running at tennis and I knew what it was.  Since then, I had been in a slight decline and had to use a cane or walker until last year – and now I'm confined to a scooter or wheelchair.  But my MS journey has been a good one, with an outstanding wife/caregiver, great friends, great family, and other fine caregivers.  Importantly, we have had decent income and insurance.
MS ALLIANCE:  You were on the very first Board of Directors for the MS Alliance.  What was it about the MSAV that made you want to be involved with it?
CHRIS:  I am flattered to have been on the first MSAV Board of Directors.  I just wanted to help others with MS because I get it!
MS ALLIANCE:  What are some important life lessons you have learned by living with MS?
CHRIS:   Be thankful for what you have, not what you don't have.  Recall Christopher Reeve was a quadriplegic!  And change the things you can and accept what you can't.  Do things while you can, too.  Don't have regrets.  Also, an MS person needs to exercise frequently.  That really helped me do the most I could for as long as I could.
MS ALLIANCE:  What advice would you give someone who is newly diagnosed with MS?
CHRIS:  Remember, most importantly, MS is one's individual disease. No one can assume that his/her MS will progress like someone else's.
MS ALLIANCE:  What are some things you are looking forward to doing now that the world is getting back to normal?
CHRIS:  I'm looking forward to spending more time with the family, reading and games.

Regina Dalton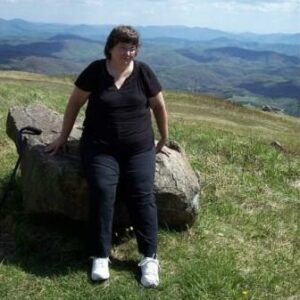 MS ALLIANCE:  Tell us about yourself, your MS diagnosis/journey and how long you have been living with MS.
REGINA:  I am Regina Dalton, the founder and co-leader of The Twin County MS Support Group in Hillsville, Virginia.  I'm mom to a 36-year-old son and a 31-year-old daughter.  They have each given me three grandchildren.  I have four grandsons ages 14, 10, and 7 (twins) and two granddaughters ages 12 and eight.  I am a Baptist Minister's daughter.  I am blessed to still have both of my parents.  Dad is 87 years young, and mom is 83 years young.
I was diagnosed with MS in June 2008.  I had experienced various symptoms for many years before, but no one had ever tested me for MS. I had my first major exacerbation while I was staying at the Brenner's unit (Brenner Children's Hospital in Winston Salem, NC) with my oldest grandson.  I just brushed it off as being worried and totally exhausted.  About a month later, I had another exacerbation while I was at work.  I went to the ER in Mount Airy NC and had a CT scan.  I was diagnosed as having experienced a brain stem stroke.  The doctor thought I was having another stroke and wanted to get me to a hospital with a neurological staff.  I was then medi – flighted to the hospital in Radford, Virginia (my first time flying).  I was examined in Radford, and they agreed that it was brain stem stroke and sent me home less than 24 hours later.
I had another exacerbation a month later.  I went to my primary physician and he sent me back to the ER with instructions not to fly me out again.  I had my first MRI. The ER doctor came in and told me I had numerous abnormalities in my brain, optic neuritis and a severe UTI.  I was admitted and started on Solumedrol.  I was tested for Lyme, STDs, and various other things that all came back negative.  I had a spinal tap and that was the conclusive evidence that I have multiple sclerosis.
The neurologist I saw at that time was not an MS specialist and he was not very knowledgeable about MS.  I saw him for several months but was not very happy with the care I was receiving.  The best decision I could have ever made was when I transferred to Dr. Cramer.  She reviewed my records and discussed my medical history with me.  Her conclusion is that I have most likely been living with MS since the late 80s – early 90s.
MS ALLIANCE:  Tell us about The Hillsville Twin County Support Group and how it came together with the MSAV.
REGINA:  Upon learning that I had MS, I started reaching out and searching for information and resources that were available to me.  I found the New River Valley Support Group and started attending the meetings.  They were about an hours drive away from me and after working all day and then trying to attend their meetings, it was just too much.  I contacted the National MS Society and asked what it would take to get a support group in Hillsville.  I was told that if I was willing to organize a group that we could have one.  I agreed and The Twin County MS Support Group was born.
I met Suzanne O'Connell at one of the MS Alliance Educational Dinner Programs.  We became friends and she started telling me about the MSAV.  I was very impressed.  Our support group had participated in several of the MS Walks over the years, but we were not really happy because we were not seeing our money at work.
I invited Suzanne to come to one of our meetings to present the MSAV to us.  She, Sharon Cross and Don Cross came, and we immediately agreed that we wanted to be a part of the MSAV."
MS ALLIANCE:  Tell us about The Ramblin' the Roadz for MS Awareness event happening this Father's Day weekend.
REGINA:  I was driving home from work one Saturday afternoon and met a large group of motorcycles.  The wheels in my head started spinning and before I got home, I already had plans in mind for our first 'Cruising for a Cure – Fight MS Bike Ride'.  It was for bikes, trikes, and classic automobiles.  We rode that year and for the next nine years.  Due to Covid, we were unable to ride in 2020 but we really wanted to get back on the roads, raising more funds.
Because we have a new partnership with the MSAV, we felt we needed a new name and so Ramblin' the Roadz for MS Awareness was born.  We will be riding June 19th.  The route will cover 120 miles of open roads, lots of curves, secondary roads and more.  The riders never know what to expect from year to year.  I try to change the route every year to keep things interesting.  We are really excited about the ride this year –  renewing old acquaintances, making new friends, and raising much awareness about multiple sclerosis.
MS ALLIANCE:  Tell us some of the challenges you are proud of overcoming.
REGINA:  MS has presented a lot of challenges in my life.  It has taken things away that I cannot regain.  I worked for many years as an administrative assistant.  I had to give that up due to walking and cognitive issues.  I was our church pianist for almost 40 years.  I had to give that up due to numbness in my left fingers and hand.  I had to give up driving  due to the numbness in my right foot and leg.  But by losing all of those very important things in my life, I have learned to appreciate the small stuff, things that didn't matter before.  I have screamed, cried, lost my temper, and begged of God "Why Me?".  But at the end of the day, I stop and realize that I should be thankful for the things that I can still do.  I've lost friends due to complications from MS.  I have friends in nursing homes that can barely move their fingers.  I am blessed I can still live in my own home.  I can still take care of most of my basic needs.  I should be more grateful for what I have and not complain of the things I no longer have.
MS ALLIANCE:  What advice would you give to someone who is newly diagnosed with MS?
REGINA:  I have talked with several newly diagnosed people and the best advice I can give them is – Get mad if you need to.  Grieve because you've been given this diagnosis.  Let your emotions have their time, but then pull yourself up by your bootstraps, brush yourself off and face the world with the determination that even though you have MS, it doesn't have you and you are going to fight this disease.  Find a local support group and let others help you along the way. We are in this fight together.
MS ALLIANCE:  What are some of the things you are looking forward to doing now that the world is getting back to 'normal'?
REGINA:  As the world gets back to normal, I want to do more to raise MS Awareness.
Rhonda Martin

My name is Rhonda Martin.  I have been married to my husband, Mike, for almost 29 years.  We have a 23-year-old daughter, Bailee, who is an RN and an 18-year-old son, Ryan, who will graduate from high school this year.  Ryan will be attending UNCC fall 2021 and will be in the Engineering program.  I worked as a Physical Therapist Assistant from 1992 until 2012 when I was diagnosed with MS.  Throughout my career, I worked with several MS patients.  In 2012, I found myself being the MS patient.
In January 2012, I started presenting with neurological symptoms.  These symptoms consisted of shocking pain that ran from my neck down to my left hand, my leg would buckle, and I would stumble and nearly fall, I began dropping things with my left hand, I had crawling sensations on my left shoulder and back and my vision was affected.  I did not have a family doctor, so at this point I had to make an appointment with a doctor whose patients I had treated in PT, and he was very booked up.  He saw me in late April and quickly realized I had a neurological issue as well.  Being int the PT field, I assumed I had a disc issue that was pushing on my spinal cord because by this time I had developed bowel and bladder issues.  I also developed a foot drop by August 2012.  After having X-rays and MRIs on my back and neck, my family doctor said he felt confident I may have MS.  I was in shock and denial and was emotionally struggling with the possibility of having MS.  I had not ever treated an MS patient that was newly diagnosed.  My issues did not present like any of my MS patients that I had treated.  I was sent for a brain MRI and my family doctor sent me to see a neurologist at Vanderbilt, who was not sure I had MS and questioned the possibility they I could ALS because my left leg had significantly atrophied.  I found out about an MS specialist in NC and decided to get a second opinion.  After further testing, he officially diagnosed me with MS in 2013.  I was given steroids that helped control my symptoms and began taking an MS medication.  I was fortunate enough to have a degree in PT so I could use my skills to improve my physical quality of life.
I contacted the Bristol MS Group and began attending the group meetings after my official diagnosis.  I was fortunate enough to have known Sylvia Bowden as a PT patient. She had told me during some of our conversations that she was the leader over the Bristol Virginia MS Group.  I met Sharon Cross at one of our meetings and talked with Sharon's group, which is now the Mountain Empire MS Group.  I discovered the MS Alliance through Sharon Cross and have had the honor of meeting many MS warriors while attending The Cinderella Ball in Roanoke.  Having MS has not been all negative because I have met some great friends throughout this journey that I otherwise would have never crossed paths with.
If I could run a campaign to promote MS awareness, I would like the world to know that MS affects each person differently.  Some people are affected physically, others end up with just cognitive issues, and some may end up with both physical and cognitive issues.  Just because that person does not look sick does not mean they are not.  Always be kind because you do not know what kind of issues someone is dealing with.  There are MS medicines to slow or stop the progression, but no cure. With continued research, let us hope a cure is found in the near future.
Virginia Hays
MS ALLIANCE:  Tell us a little about yourself
VIRGINIA:  My name is Virginia Hays. I was born in Maryland and moved to VA 27 years ago.

MS ALLIANCE:  Tell us about your diagnosis and MS journey.
VIRGINIA:  Back when I was going to college, I was working in a movie theater. One day I noticed that I felt numb from my waist down. I ended up taking a year off from school. My doctor put me in the hospital. Back then, there were no MRI's or CT scans. My diagnosis at that time was stress due to living with my elderly parents.
Fast forward several years. I was doing good. Our family would go on trips and spend time with our families and friends. At this time, I was an X-Ray Technician in a doctor's office. The staff started noticing that I couldn't keep up with my job duties. I was sent to a neurologist. He ordered an MRI, 10 tubes of blood to be drawn and a spinal tap. He diagnosed me with Relapsing Remitting Multiple Sclerosis. I continued to work as long as I could, or they would let me. My doctor moved, so I started going to the MS Clinic at UVA. The doctor there now said that I now had Secondary Progressive MS.

MS ALLIANCE:  How did you find the MSAV?
VIRGINIA:  I'm not sure how we found out about this great group. My children and I would go to the Brian Mason MS Retreat at Smith Mountain Lake in September. This was a weekend away from computers, phones and work. It was there that we met Suzanne O'Connell and Denise Ellis. I'm sure this is where we found out about the MSAV. We feel like this isn't just a group, it's a family.

MS ALLIANCE:  What would you tell someone who was newly diagnosed with MS?
VIRGINIA:  For those who are newly diagnosed, I suggest that you slow down and take a minute to breathe. This is not the end of the world. Don't be afraid to ask for help. (This is something I have a hard time with).

MS ALLIANCE:  What are some tips you have discovered that help with navigating MS?
VIRGINIA:  It is important to find a neurologist that you feel comfortable with. Write down anything that you may find different during your day so you can let your doctor know. And not everything you feel is always connected to MS, that's why it's good to write it down. You may want to take a friend or family member with you to your appointments. This helps because they may remember something that you forget.

MS ALLIANCE:  What have you been doing to keep yourself sane while the world has been in lockdown?
VIRGINIA:  I tend to get upset when I have to go out. So, staying home hasn't been that much of a problem. Some of this is based on the fact that I need help now, which I don't like to ask for. I have really enjoyed the Zoom meetings and the exercise classes that I do online. I also love working on my container gardening, reading, Facebook and my shows.
Cheryl Dean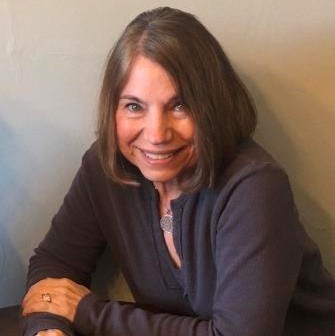 MSAV:  Please tell us about yourself and share some fun facts.
CHERYL:  I live with my husband Nick in Harrisonburg and our spoiled cat Oakey Noodle. I am from the greater Philly area and Nick is from New York. My career prior to retirement was as an academic advisor at JMU. I earned my BA in social work and sociology, and MA in education with a specialty in Diverse Needs: At Risk Populations from EMU. This March 2021 I accepted proclamations for both MS Awareness and Education and Brain Injury Awareness Month in Harrisonburg. 

MSAV:  How did you discover the MS Alliance?
CHERYL:  I discovered the MSAV on Facebook and started attending weekend conferences in Roanoke. That was all it took to get involved. Love the people I meet, and we always have a great time together. It is a perfect combination of social and educational activities. Highlight is being able to dress up with Cinderella's Closet outfits. I enjoy modeling the dresses and being in the fashion shows. MS Alliance is a wonderful group of volunteers living with MS.

MSAV:  Tell us about your MS journey and diagnosis and how long you have been living with MS.
CHERYL:  I was diagnosed with MS nearly 30 years ago in 1992 after experiencing numbness and tingling throughout my body. Those symptoms have remained along with others including pain, fatigue, vertigo, cognitive issues, depression, and anxiety. It started as relapsing-remitting and transitioned into secondary progressive. I also have POTS and Dysautonomia. In 2020 I developed Trigeminal Neuralgia which has been an additional challenge.

MSAV:  Tell us some of the challenges you are proud of overcoming.
CHERYL:  In 2017 there was another significant event in my life. I was hit by a truck as a pedestrian while walking across the street. I was airlifted to UVA with traumatic brain injuries, skull fractures, hemorrhaging and fluid in my brain, and sutures covering the back of my head. I was intubated and placed into an induced coma with an ICP bolt drilled through my skull. After 9 days, I woke and began the long road to recovery, relearning to walk and basic life skills. Inpatient therapy followed by months of ongoing outpatient rehabilitation included physical, occupational and speech therapy. It was a tough life-changing journey but proud to have worked my way back. I have a lot of life yet to live.

MSAV:  What is something that you want the world to know about MS?
CHERYL:  I want the world to know that looks are often deceiving. Even when we look okay on the outside, we are struggling on the inside. Whether it is MS or TBI, you cannot see inside our brains or know what someone is dealing with in their bodies. Disability can be invisible to others. Let us show kindness and empathy to people.

MSAV:  How have you been taking care of your mental health during the pandemic?
CHERYL:  Throughout the pandemic I started taking a walk most days for physical exercise to help maintain muscle strength. A cooling vest helped on those hot summer days. Getting outside also helps mental/emotional health to combat feelings of sadness and isolation. A daily gratitude journal has made a significant difference in my life as well to focus on positive things. There is always something to be thankful for.

MSAV:  Tell us about your hobbies and what you like to do for fun.
CHERYL:  My favorite place is the beach. I was not able to go during COVID-19 but look forward to going this spring. It is good for the soul. I enjoy music and had sung in a choir prior to the pandemic. Writing is another passion and speaking to groups, sharing my story as an MS warrior and TBI survivor. I lead the PALS MS support group in my area, am Sunrise team captain for Walk MS, and serve on the Brain Injury Connections of the Shenandoah Valley board of trustees.

MSAV:  What advice would you give to someone newly diagnosed with MS?
CHERYL:  For those newly diagnosed, I would say to keep pursuing and achieving your plans, goals, and dreams. Continue to live life fully. When symptoms get bad, know that they can improve, or we adjust along the way as needed. Join a support group and the MSAV. There are now so many treatment options available to slow progression of this disease. We are amazingly resilient, and life is still good.
Sal Elizabeth
What started out like a normal week 5 years ago turned into me being unable to walk and being hospitalized. I was completely devastated hearing the diagnosis, I had just gotten into Clemson and was unsure if I could pursue a career God had called me to. Being uneducated about the disease I thought I would be wheelchair bound. But that is not my story.
Today marks 5 years since my diagnosis of Multiple Sclerosis. While I had to relearn to walk and advocate for myself, I have been extremely blessed to have had such a wonderful support system through MSAV. These people got me, gave me resources, and walked along side me, literally in this journey. Along with the wonderful support and love from my family and friends.
This disease does not define me nor hold me back to pursue my life. After my first flare up this year, literally after moving to Greenville, during the hardest year of my life with Covid and losing my Mom, I began chemotherapy that completely changed my life, I now lead a normal life, able to do a lot more than in years past.
Most days I forget I have it. With God anything truly is impossible. This might sound strange, but I do feel I am blessed to have been diagnosed with MS. It has opened my eyes to knowledge, friends, an entire network, starting a nonprofit and made me thankful for what I have. Most importantly, it has shown me that I can rely on God, He is my help, healer and hope and I can put my trust in Him. He shows up and is never late.
Debra Ramirez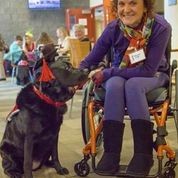 "Meet Deborah & Her Service Dog Jip"
Deborah Ramirez, a mother of three adult daughters, was diagnosed with Multiple Sclerosis in 1999.
She has been bravely battling the disease for more than 20 years and while she has faced
several obstacles in her journey, she'll be the first to share with you the successes. It's her
infectious positivity and unwavering faith that have helped to raise awareness about this
crippling autoimmune disease.
MS strikes with little warning and rarely affects any two people in the same way. In Deborah's
case, it manifested itself through problems with her vision and balance. Her eye doctor was
quick to refer her to a neurologist where she was initially told she may have a brain tumor.
Thankfully, it wasn't the dreaded "C" word. In that, she felt immense relief. But then came the
fear in a diagnosis that at the time, she knew very little about.
For the first 15 years, her MS symptoms were frustrating, but manageable. Then, slowly, over
time, the damage to her central nervous system caused her to rely more and more on her
walker. Increased spasticity meant she needed help bending her legs to do simple things like
getting into a car or getting up from a chair. Before long, her mobility became so limited, she
was dependent on a wheelchair. As a fiercely strong and self-reliant woman, this was a tough
pill for Deb to swallow.
"Enter… a lovable Black Labrador named Jip."
Jip is Deborah's certified service dog through Saint Francis. The non-profit professionally trains
dogs like Jip to help people of all ages who are battling physical and developmental disabilities.
Deb's outlook changed from the moment the two first met in training. Their bond has increased
her motivation, raised her self-esteem, and given her a higher quality of life. Jip has made
everyday tasks more manageable, and together, the pair has become an inspiration to
everyone around them. They have put a face and a story to Multiple Sclerosis… and inspired so
many along the way.
MSAV is another organization extremely close to Deborah's heart. So much so, that in the
middle of this pandemic, she saw her birthday as an opportunity to raise money through a
Facebook fundraiser.
Below is an excerpt of what she shared.
"This organization welcomed me with open arms when I relocated to Roanoke.
The leaders and founder have multiple sclerosis (MS) themselves, but volunteer
Tirelessly to educate the public about MS and to help those of us with MS
Maneuver the trappings of MS."
Little did she know just how much her words would move people to pay it forward? What
started as a goal of $200 was quickly surpassed. Before she knew it, that number crept past
$400. Then… $600. Her personal story of perseverance inspired friends and family to donate a
grand total of $760.
"I haven't been able to volunteer or participate in any of the group's events;
However, they continue to include me by sending cards or calling. I love and
Respect these men and women."
Written by Jessica Wauhop & Ashley Ross
Christy Taylor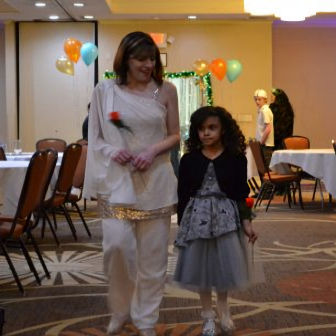 Meet Christy, diagnosed in 2007. Christy is married to Bryant and mother to Khenan, Brayden, and Leigha. Christy is a mental health therapist, working as a case manager and clinician. Christy recommends that newly diagnosed individuals immediately seek out a support group. That's exactly what Christy did after her initial diagnosis. She shared that while a bit concerning to see others in varying degrees of disease-progression, it helped to normalize the disease early on. An unexpected benefit of joining a support group was inclusion in a family that was linked by something greater than biological processes. For Christy, every event with the support group is reminiscent of a family reunion.
Christy's disease manifestation is relapsing MS. The breaks that such offers between exacerbations allows Christy to continue to work and remain somewhat active. Exacerbations mimic Christy's initial disease-onset. Symptoms often include optic neuritis, MS hug, active inflammation of a body part, specific pain, and anxiety. Exacerbation of symptoms usually lasts for the usual six-month period before subsiding. Christy shared this description to illustrate the wide variety of symptoms and experiences of individuals diagnosed with MS.
Christy said that MS is just one aspect of her life. She is so much more than just a person living with MS. MSAV is all about being more than an MS patient. It's about living and doing despite challenges. For Christy, MSAV perfectly encapsulates her life goals. Christy ended the conversation with these words, "MS does not define me. I will define how MS fits into my life!"
Denise Ellis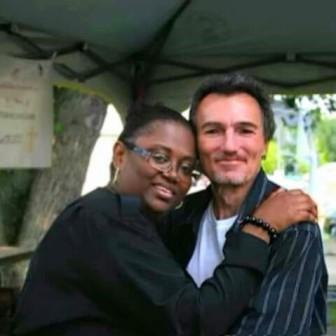 Denise Ellis is a familiar face for most of us at the MS Alliance.  She has served as an inspirational speaker, conducted workshops, event photographer and excels at obtaining Proclamations from multiple municipalities for our Annual March MS Awareness Month Ceremony.  She also mentors' others who are interested in advocating for community awareness.  She understands the need for local programs, services, and fun events because she, too, lives with multiple sclerosis, diagnosed in November 23 years ago.  She graduated from Liberty High school and met her husband Mark while attending college at Virginia Intermont College in Bristol, Virginia, they now live in Alta Vista.  Denise is a retired educator, freelance photographer, and most of all wife to Mark (for 31 years) and mother to Mark II.  As she puts it "We fight MS as a family. Our son has been an MS Ambassador since he was 4."  She does not let MS stop her, most recently starting a new support group in her area. The Ellis family always lends a helping hand, never asking for, nor expecting, anything in return.  We have all benefited from her encouragement and talents, especially in photography.  A favorite memory is Mark's "Kodak Moment" when he had his long, thick hair all cut off at a Cinderella's Closet event a few years ago!  When we get back together, hopefully soon, make sure you thank Denise and her family for their tireless hours they have devoted to the MS Alliance of Virginia.   Denise's statement "MS may have invaded my life, but it will not take it over" is something we should all embrace.
Juanita Gillespie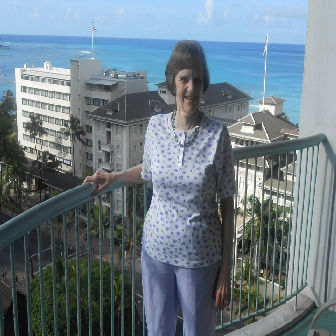 Juanita Gillespie is a Group Leader for the Roanoke Valley MS Support Groups and Distinguished Founding board member of the MSAV. Her story in her words:
In 1976 shortly after graduating as a registered nurse I was working in neuro intensive care at Roanoke Memorial Hospital. I started having unexplained symptoms, after several tests and 3 different hospital stays, I was finally diagnosed with Multiple Sclerosis, very disturbing and scary at the time. Needless to say, my career as a nurse was stolen from me, but when one door closes another open. I have raised one wonderful son, have 2 grandsons, 1 great grandson, 1 great granddaughter and another great granddaughter on the way.  I have done lots of volunteer work with the MS support groups and the MSAV. I have a great care partner in my husband, we have done lots of traveling and several cruises, with the assistance of my husband and my scooter. I love bike riding on the Creeper Trail on my special made bike my son built for me. I have made a lot of friends over the years while working with the MS support groups and the MSAV, so the diagnosis with MS was not all bad a lot of good things have happened as well. People diagnosed today are in a better position to deal with MS because of all the different drugs available and all the information out there when I was diagnosed, we had none of the drugs and extraordinarily little information.
Toni Quesenberry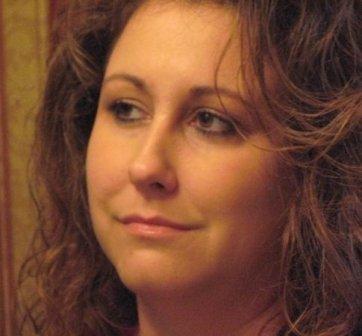 My (Toni's) Multiple Sclerosis journey started May 2016 with a confirmation that following August 2016. I am a single mom of a 19-year-old daughter who also has been with me through this journey and who also had a hard time adjusting to my MS until recently. I was forced into medical retirement by my employer but with the help of my dad, boyfriend & my co-workers they told me about Multiple Sclerosis Alliance of Virginia. My dad told me I was going to attend a meeting with him that fall evening after my job ended.  If I was not dressed, then he was dragging me to the meeting in whatever I was wearing even if it were my birthday suit because I would be attending. That evening my world changed and it changed for the best. I may have lost my job, but it was only so I could find something better and more meaningful to me by attending the Support Group meetings; also volunteering with them. It has brought me out of my shell, helped me find my laughter again along with helping me to realize I am not alone; how my brothers and sisters in MS are going through or have gone through something similar and want to help.  They also lead me to the education that I, myself needed to teach myself what treatment plan worked best for my age and lifestyle. Now almost 4 years later…. I look at my MS as an incredibly special gift given to me so that I can do what I have always loved doing and wanted to do once I entered the world of retirement…. helping and giving back. I have my days and moments, but we all do, and it is how I pick each day to handle whether I want to find happiness going out and trying to do something or just cuddle up all day.